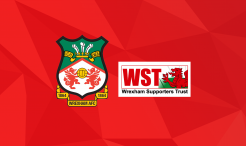 Please find attached the link for this week's Dragon Chat. You can contact Stephen.lloyd@wst.org.uk should you have any questions regarding the group format.
We are doing something a little different this week and offering a dementia friends session for anyone who wishes to join us. The session is designed to give you an insight into dementia and how you can support a person living with dementia.
Following the session we will be having a Wrexham AFC quiz, no prizes, just a bit of fun but there will also be a place to anyone to talk openly should they wish to.
The link for the meeting tonight on Thursday 21st January at 7pm-8:30pm is below, please feel free to join us.
Join Zoom Meeting- click here
Meeting ID: 931 2355 7969
Passcode: 633242