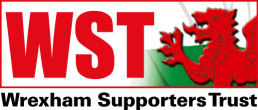 The main aims and objectives of the Trust are and always have been as follows:
to encourage and promote the democratic and constructive involvement of supporters in running of the club.
to strengthen the bond between Wrexham AFC and the community it serves and to represent the interests of the supporters and the community in the running of the club.
to benefit present and future members of the community served by Wrexham AFC by promoting, encouraging and furthering the game of football as a recreational facility, sporting activity and focus for community involvement.
to ensure Wrexham AFC takes proper account of the interests of its supporters and of the community it serves in its decisions and to seek the views and opinions of the supporters of Wrexham AFC.
to uphold and preserve the tradition and heritage of Wrexham AFC, and to secure the clubs long term future in Wrexham.
to give a commitment from Wrexham AFC to provide and maintain facilities for the enjoyment of professional football in the area.
to develop links with supporters of other football clubs to further enjoyment for all fans.
to raise money to be spent in order to support and achieve these objectives.
To be an inclusive democratic organisation that seeks to represent the views of all supporters of the club through open, affordable membership, and consultation and liaison with all supporters and supporters groups, regardless of whether they are members.