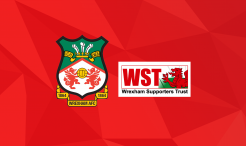 The Wrexham Supporters Trust Board is pleased to announce the completion of the sale of Wrexham AFC to RR McReynolds LLC.
We would like to thank all our members for their participation in the voting process and patience regarding the deal. Also, to our advisors on the deal, namely BDO, Kevin Jacquiss, Mackenzie Jones, Rob Parry and Sheridans.
The Wrexham Supporters Trust Board would also like to thank both Rob McElhenney and Ryan Reynolds and their advisors, Inner Circle Sports and Walker Morris, for the time they have put into this process.
We would like to place on record our gratitude for their professional approach at all times, and for their engagement with Wrexham Supporters Trust, Wrexham supporters and the broader local community.
Wrexham Supporters Trust now enters a new chapter, with thought required on the direction we take. We urge all supporters to unite behind our new owners, the Club and the team as they look to return Wrexham to the heights we have all dreamed of.
Reflecting on the last nine years, the Board is proud of aspects of what the Wrexham Supporters Trust has been able to achieve since taking control of the Club in November 2011.
We are proud to have improved the financial position of the Club, with members' contributions crucial to that. In particular the 'Build the Budget' and 'UTST' campaigns, which together raised over £180,000.
We extend this gratitude to the numerous sponsors and Supporters Groups who have provided valuable financial support throughout our time in charge. Especially all those who sold tickets for our Christmas raffle, which helped generate an annual profit of around £10,000.
Our average attendance has grown to 5,100, and we are thrilled to have secured the long-term protection of our iconic Racecourse Ground, as well as making significant progress towards the development of a new Kop.
We are also pleased with our community status and engagement, including becoming the first autism-friendly Club in Wales and recently winning a Football v Homophobia award for our LGBTQ+ inclusion.
Despite these successes, we are disappointed at failing to deliver in our ultimate aim- to return the Club to the Football League.
There have been significant challenges during the Wrexham Supporters Trust's ownership of Wrexham AFC, and we have always strived to do everything possible to support the Club we are all so passionate about.
We would like to say an enormous thank you to all those involved during the last nine years. The players and staff – past and present – including those who work long hours behind the scenes. Our volunteers, who give up so much of their time for the Club they love.
Finally, thank you to our supporters, to whom we are grateful to each and every one of. On countless occasions you have gone above and beyond for our Club, and without you it would simply not be in the position it finds itself in today.
We wish Rob, Ryan and everyone else involved in Wrexham AFC the very best of luck going forward and are excited for the future of both the Club and the town.
The Board of the Wrexham Supporters Trust