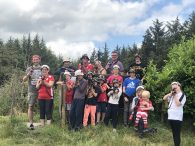 The Junior and Youth Dragons enjoyed a fantastic afternoon of Laser Combat fun on Sunday, 7th July, at Llandegla Laser Combat. Around 20 young Wrexham fans and family members attended the event on a beautiful, sunny summer's day on the moors.
The event involved players completing a series of team laser combat 'missions' and was enjoyed by the adults as much as the children! Congratulations to the blue team for a fine 4-2 win over the red team. It's not very often we praise the success of a team in blue!
Our thanks go out to all children and adults who attended the event and to Llandegla Laser Combat for being such wonderful hosts.