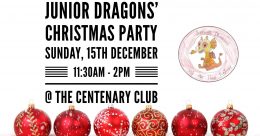 This year's Junior Dragons Christmas Party will be taking place on Sunday, 15th December in the Centenary Club from 11.30am – 2pm.
This FREE event will include a disco, party games and a question and answer session with members of the first team squad.
Each child will also receive a free party food box during the event, whilst adults can purchase additional snacks and drinks from the Centenary Club bar. Please let us know if your child has any special dietary requirements by emailing juniordragons@wst.org.uk .
Although this is a free event, tickets are limited in number and are now available to collect from the club shop, and will be issued on a first come, first served basis. Please remember to take your child's Junior Dragon membership card with you. If you unable to visit the club shop, tickets can be reserved by phoning 01978 891864 and quoting your child's membership number. New members are still welcome to attend the event but will first need to join online or at the club shop for £5.
To ensure as many children as possible are able to attend, this year there will be a limit of one accompanying adult per child ticket. Last year's event was so popular that all tickets were quickly taken, meaning many children were unable to attend. By limiting the number of adults attending we have been able to increase the number of child tickets available.

Even with a larger amount of child tickets available, we still anticipate a huge demand for tickets, so please do collect your tickets as soon as possible to avoid disappointment.