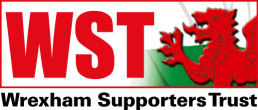 Wrexham AFC met with building control and the safety officer/stadium advisor from Wrexham County Borough Council yesterday to further discuss, on site, the proposal for building platform 2.

Building control were happy with the proposed location, stating the initial proposal of the paddock would not have been approved.

Discussions were constructive and suggestions were made which would improve the design and location slightly, removing any potential sight line issues whilst satisfying flow rates were not compromised.

Measurements have now been taken and sent back to the draughtsman who will re-configure the design before sending to building control and the safety officer to review before final submission to WCBC.

Initially Wrexham AFC were informed the structure would not require planning permission and this is being checked out by building control to ensure this is still the case.

All of the steelwork is competed and ready to be installed once the final plans have passed all the appropriate checks which we will be working on next week to save any further significant delay.

Wrexham AFC will be looking to convene a meeting of the focus group in the near future so the new plans can be discussed.