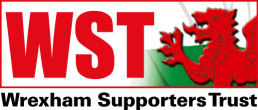 Wrexham Supporters Trust Society Board would like to announce that the co-opted position that was recently advertised for the Fan Ownership & Membership group has now been filled.
We would like to welcome Matthew Scott onto the Society Board. 
Matthew is a 'head of department' at Barlows, and will work alongside Sarah Smith-Howard in working to increase membership and members benefits, as well as looking for new initiatives and helping members with enquiries. 
We wish Matthew the very best in his new role.