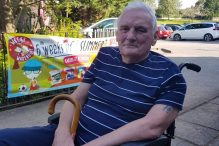 Wrexham Football Club are saddened to hear of our former captain Gareth Davies' current situation. Our most successful skipper, who led the Club to the Third Division championship in 1978, and was also part of our promotion winning side of 1969-70 has been suffering with Dementia for some time now, but on top of that his mobility is now under threat, as he requires a new knee.
However, he has been given an 18 month wait for his new knee on the NHS and is now mostly wheelchair bound, unfortunately with the way he is at this moment in time he just cant wait that long.
His son in law Chris Braisdell stated; "The daily pain and lack of mobility is taking its toll and he's now become very withdrawn and incredibly low on top of his Dementia.
"So now we are on a mission to raise funds for a private operation (approx £12,000) to hopefully get him back out and about with us while he's still able and aware.
"Anything you can give in support of this would be very much appreciated from us all and it will run along side all other fundraising ideas which will follow shortly."
With this in mind Wrexham AFC, and with the help of the Former Player Association, have organised a bucket collection at Wednesday evenings match with Stoke City where all the proceeds will be donated to Gareth's fund.
If you are unable to attend the match on Wednesday, you can also donate on line at https://www.gofundme.com/f/skips-new-knee  
As well as the aforementioned successes in the league, Gareth also captained the club to the quarter finals of the FA Cup in 1974 and 1978; the quarter-finals of the European Cup-Winners' Cup in 1976; the quarter-finals of the Football League Cup in 1978; made 612 league and cup appearances for Wrexham as well as being capped three times for Wales.