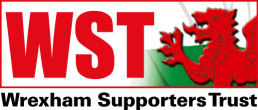 The Society Board of the Wrexham Supporters Trust are saddened to learn of the resignation of our independent secretary Alan Fox.
Alan has been the Society Board's independent secretary for over seven years providing impartial advice, ensuring that the Board applies the Rules and policies of the Society while acting in accordance with its objects.
He has been the "guardian" of the Trust, but independent of the Board, attending both Trust and Football Club board meetings, whilst contributing to discussions and providing whatever support he can, including overseeing annual elections; both the Trust and Football Club AGM's and undertaking whatever duties the Board(s) delegate to him, which are varied.
Of his departure, Alan stated:
I have today informed the Trust Board that I am stepping down as the independent secretary of Wrexham Supporters Trust after seven years in the role and would like to take this opportunity to explain to the membership why and to encourage people to consider applying for the role themselves when it is advertised.
In 2012, I answered an advert asking for members to apply for the role of independent secretary. I didn't know any board members or directors but had been a supporter of the club since I was a child. I firmly believed in fan ownership (and still do) as the best way of ensuring the clubs survival and wanted to contribute to this great football club that we all love and so nearly lost.
"Independent" because the independent secretary isn't a board member or director and doesn't have a vote although they do attend board meetings and contribute to the decision-making process. They have the important role of monitoring the Trust's affairs and ensuring that matters are dealt with in accordance with the rules, legislation, policies, and good practice and to the benefit of the members. The Secretary is there to give impartial advice and to act in the best interests of the Society and its aims.
Its been a fascinating seven years. I have worked alongside some hugely committed and able people. Board members and countless volunteers who have faced and overcome many challenges. Supported of course by our amazingly loyal and ever generous fans.
Have the boards always got things right? Of course they haven't and neither have I agreed with every decision. But that's the case with any organisation. Success on the pitch has largely eluded us despite going close. It's not been for the want of trying and let's hope Dean can galvanise the squad and quickly turn things around.
The boards have, in my view, got a lot right and what we can be certain of is that decisions are made in good faith for the best interests of the club and not to line someone's pockets or as part of a rich man's vanity project. Some people will disagree with me. I can only tell it as I see it from observing events first hand. Fans should question and challenge – it's their club and engaging with the membership is something that needs to improve. It's great that we are passionate and that we care but some of the criticism of individuals recently has, in my view, gone too far.
Regrettably I no longer have the time to commit to the role. My day job now involves much more travelling than ever before and I have some other challenges to face. So the time is right for someone else to come in with fresh ideas to take things forward. Particularly on the communications side and I know the board share my view that better communications with the fans should now be a top priority. As should utilising the skills within the membership more than we have in the past so as to identify and encourage the future leaders of the club.
Finally, I want to thank every volunteer who has contributed to the work of the Trust in so many ways and to each member who has continued to support the idea that fans can own and run a sustainable professional football club. If anyone wants to discuss the secretary's role with me then I am happy to do so.
Thank you very much.
Alan Fox
On behalf of both Board's, Trust Chair, Peter Jones, acknowledged Alan's work.
"We are more than thankful for Alan's contribution over the past seven years, his voluntary role is going to be hard job to replace.
"His professional approach and background has been a real strength for the club, whilst his efforts and commitment over seven years have been beyond reproach. It is going to be difficult for us to find someone with Alan's integrity, knowledge, presence and commitment.
"He will not only be a loss to Wrexham AFC, but also the fan movement itself having represented the club and the Trust at many conferences and meetings.
"However, We are happy that Alan has agreed to be there for his successor should he/she require guidance in the role. We all wish him well for the future".
With Alan stepping down with immediate effect, we as a Board must look forward to the future and his replacement. He will obviously be a hard act to follow, but we need to look forward and fill Alan's role as soon as we can.
The Society Board would therefore invite applications for the Society board's secretary position posted on the WST website. If you feel you have the credentials, time and commitment to take up the Secretary's role then we would like to hear from you.
Please email chairman@wst.org.uk by Friday 8th November 2019.