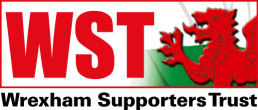 A co-opted Board position for any member of the Wrexham Supporters Trust who would like to become part of the commercial team has arisen.
The Trust Board (which is the governing body of Wrexham AFC) consists mainly of board members with designated areas of responsibility together with co-opted board members.
The successful candidate will attend our board meetings and contribute to all areas of the Trust's work, with emphasis on enhancing the Commercial team, which involves looking to bring extra revenue for Wrexham AFC through events and fundraising means; helping to increase the uptake of the Goldline lottery the club are involved in; and increasing sales and sponsorship for the club.
If any member wishes to be considered for this position please email our Secretary Alan Fox at secretary@wst.org.uk – please set out your relevant skills and experience and what you feel you can bring to the ownership and membership group and the board.
This is a great opportunity to make an important contribution to the success of Wrexham AFC with the successful applicant being in post until next year's AGM when all co-opted positions will be reviewed.
The closing date for applications for this position is Monday 28th October 2019.