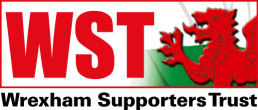 We communicated back in May 2018 that something called the General Data Protection Regulation (GDPR) was coming in to force.
It's a new set of rules on how companies collect, store and use your personal data.
This means that everyone must opt-in again to continue to receive emails from Wrexham AFC and Wrexham Supporters Trust.
Click HERE to opt-in
We updated our privacy policy which provides more detail on how and why we process your data. You can view the new policy here.
If you have any concerns or queries, you can e-mail us on GDPR@wst.org.uk and we will assist.
Opt-out Practices
You may opt-out of receiving marketing email communications from Wrexham AFC at any time by clicking on the unsubscribe link in our emails or by updating your preferences in your account settings.