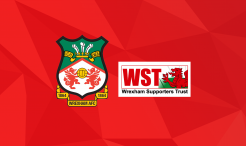 The Wrexham Supporters Trust Board can confirm the appointment of Lindsay Jones as interim secretary. Independent secretary Josh Williams has had to temporarily step down from his role and, with the Annual General Meeting imminent, the Trust Board felt it necessary to act as swiftly as possible.
The ongoing coronavirus pandemic has resulted in an unforeseen increase in Josh's personal workload meaning he has had to temporarily step down.
It was the Board's belief that, with the process for the Supporters Trust AGM needing to begin imminently, appointing a former secretary with experience of overseeing previous AGM processes was an ideal solution.
As a former secretary, Lindsay has this experience and will act as the interim secretary until Josh can return to his duties.
Consequently, Lindsay will be overseeing the Annual General Meeting process. Details for any proposed resolutions and nominations for candidates for the Trust Board will be announced very soon.
Given the unprecedented global circumstances, the AGM process is being looked at with the help of the Football Supporters Association (FSA). We are looking into the best way to deliver a fair, thorough and accessible AGM process.
Please note, the WST is also aware of the tweet posted from the Trust's account at the weekend. We are looking into the matter and a further statement will follow.