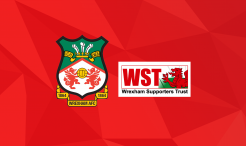 Please find the latest update from the Wrexham Supporters Trust board below, including notice of the 2020 Annual General Meeting and an update to supporters regarding the club's and the WST's current funds.
You can find all of our recent updates here.
Notice of Annual General Meeting
Notice is hereby given that the Annual General Meeting of the Wrexham Football Supporters' Society (known as the Wrexham Supporters Trust, "WST") will be held at 12.00pm on Saturday 8th August 2020. The AGM will be hosted on Zoom and joining instructions will be given closer to the time.
Notice of Elections: There will be nine vacancies on the Trust Board.
For the election nominations form, details on standing for the Trust Board and information regarding proposing resolutions, please see the full notice here.
Membership Update
The last week we've seen an upturn in new membership and renewals which goes a long way to helping our club and safeguarding for the future.

This is greatly appreciated as we understand that it's a bit complicated to get signed up at the moment, but it's something we've been working on in the background a lot recently to create an easier, less complicated and member-friendly alternative.

We're really excited to announce that our membership and ticketing system has been overhauled. We're currently in the process of inputting all information to help us manage the membership more efficiently going forward.
The new system will allow you to purchase your membership online, give you better communication from the club, access to more perks and lots of other existing features which we've been unable to do previously.

Over the coming weeks, anyone already signed up for the 2020/21 season by the end of May will receive an email welcoming them to the Wrexham Supporters Trust.
Please don't worry if you don't receive anything straight away when someone else has, as we'll be inputting information into the system in a set order

Following on from this we'll be sending a link out to you, the members, so that you can sign up and pay using our new digital system which will eventually include a brand new app to make things much easier for all.
This will allow you access to your membership card, match and season tickets from within the app. We are aware however that some members do not own a smartphone, and previous methods will still be available to ensure you are kept updated.

We'll soon be sending out more information in regards to the app and how it works, including how it will replace your current membership card.
Anyone that will still require a membership card though once the app information is given out will be able to do so by emailing membership@wst.org.uk.

Another update to come in the next few days will be the brand new perks of being a member of the WST, including fantastic discounts and offers with local businesses.

Many thanks for all that have signed up over the last few weeks and are supporting us through this difficult time
National League Meeting 11/06/2020
Board Members attended a Meeting of National League Clubs on Thursday. The agenda included a discussion on finishing the current season and a possible start to the new season.
There is a lot of detail here and the start date for 20/21 is provisional at this stage.
Conclusion of current season:
● The proposal from the Board is to determine the final positions in the league based on a unweighted average points per game
● This would result in Barrow AFC becoming Champions elect and they would take the current vacant place in the EFL
● The second promotion place has to be determined by a play-off as the league rules do not allow for the second placed team to automatically take this place
● The Government have defined the National League as the last level of elite football and this allows the play offs to take place providing guidance is followed. This is based on the fact the majority of players in the National League are professional and football is their main source of income. In addition, there is a broadcast agreement in place with BT sport to show the play offs on TV
● Each team participating in the play offs will be responsible for their own payroll and any testing costs. Match costs to be shared equally between clubs in each game
● The National League rules state that the final must be played at a neutral venue whereas the North and South leagues allow for the final to be played at the ground of the team that finished highest in the league. This does not have to be at Wembley to avoid excessive costs and a decision could be taken once the final teams are known to pick a suitable venue that has a similar travelling distance for both teams
● A club finishing in place 2-7 can decide not to participate in the Play Offs and can do so without any league sanction. In this case teams that finish outside the top 7 will not fill these spaces as the league rules only allow up to position 7. A similar occurrence happened in the South last season due to ground grading and the rules allow the Board to adjust the play off competition accordingly
● The league requires at least four teams to participate in the plays offs for them to have sporting merit. If the play offs are not completed then it is likely that only one team being relegated from the EFL and this will be the position of Bury
● The proposal being accepted will result in Chorley being relegated and Kings Lynn (North) and Wealdstone (South) being promoted to the National League as the teams finishing with the highest average points per game. This will result in the National League having 24 teams but either the North or South will run with one team less. This will be subject to allocations from the FA League Committee. There will be no additional relegation from the National League as the North and South are unable to play their play off matches under Government definition of elite sport and the League's rules do not allow the second place team to be automatically promoted

Season 2020/21:
● Early indications from the Government is that the new season will start in September and league rules require that it is concluded by May 2021, including play offs, unless an extension is granted like this season
● It is hoped that spectators can attend matches by this point but this will be determined closer to the time. It could be that this is restricted to 30% of spectators initially and we would have to factor this in in terms of season ticket numbers, press, staff and away supporters. It is too early to make an decision regarding this
● Consideration will have to be given for playing behind closed doors but we have to consider the financial realities of this for all 67 members clubs across the three decisions
● There are no details yet on the FA Cup or FA Trophy competitions
Voting on resolutions:
o The National League are due to submit the resolution to member clubs on Friday
o Member clubs have 28 days to respond but the National League have requested this is completed by Monday (15th June) to allow matters to be concluded
o There are 32 votes in the National League:
o National League Premier Clubs – 1 vote each and 24 in total
o National League North Clubs – 4 votes between them
o National League South Clubs – 4 votes between them
o 17 votes are required in total to pass the resolution and the Chairman has the casting vote if votes are equal
o If the vote is rejected then it is likely that the National League Board would propose a null and void resolution to follow steps 3-7
o Wrexham AFC will be voting for the resolution for the following reasons:
o It allows sporting merit to be applied to the final standings and is consistent with the approach of the EFL
o It facilitates promotion and relegation between the EFL and National League
o We would support the North and South leagues having a play off competition if Government guidance changed in sufficient timescales for them to be concluded by end of July
Trust Funds
Thank you to all the supporters that have renewed their Membership and those that have supported our recent fundraising campaigns. Including all our revenue streams, the Trust now holds £190K of cash reserves.

The Club has made no call on Trust funds in the period since our last update when our balance was £178k. However, the financial future of all football clubs is uncertain and, whilst, we hold a healthy balance at present, this will be eaten into as we still have to meet our financial obligations.

Thank you for your continued support during this difficult and challenging time.
Club Funds
We will be in a position to give a full update on the club's financial status in the next two weeks. Currently we are meeting our obligations and are able to do so for the foreseeable future.
We have not made a call on WST funds at this stage but may do so in the future. We are in the process of reviewing all of our expenditure and are having discussions with our partners in a bid to better manage our costs.
In the next week we have meetings booked with our local MP , Sarah Atherton, to discuss our payments to HMRC. We are up to date with our VAT payments but would be looking for future payments to be deferred, at least until we can start playing football again.
We also have a meeting with our Senedd member Lesley Griffiths to discuss areas that we may need the support of the WAG. As a Welsh club in an English competition we are subject to different lockdown restrictions than our rivals. This could lead to obvious difficulties when the time comes to restart. Cardiff, Swansea, Newport and Merthyr will face similar challenges.
The obvious question at this stage is how long will our money last for. The answer to that is that it is not possible to give a definitive answer. We are managing our funds carefully and always looking to reduce our costs.
It is also worth pointing out that any bills we can defer today will still have to be paid at some point in the future. While we are unable to play, the various fund-raising schemes that are ongoing are of great importance.
We will update supporters again when the picture becomes clearer.