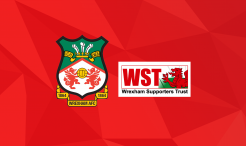 We are aware that some members have not been receiving emails from the WST having opted to do so when they joined the Society.
As of today, we are aware of 103 members whose email addresses are still 'bouncing back' any emails we are sending out. Put simply, they are not getting our messages.
This figure is significantly less than the number we got at the recent AGM where we were able to update contact details for many Members.

We have identified five main issues in this scenario:

1. You joined the WST and then changed your personal email address.

2. You joined the WST using an email provider that is no longer trading. (Tinyworld, Tiscali for example).

3. You joined the WST with your work email address and your company's servers reject our emails as spam.

4. You joined the WST with a work email of a company/organisation that you no longer work for.

5. Our messages are in your Spam folder.

If you are having difficulties we urge you to check old accounts you no longer use or work email addresses.

We are aware there have been a number of complaints concerning this matter and we are keen to rectify the situation.
ACTION
Contact the WST Secretary (secretary@wst.org.uk), ideally with your membership/wrexid number, and we will update the email address on your account.

If you know somebody who has complained about lack of emails, we ask that you please point them to this communication.

Many thanks,

WST