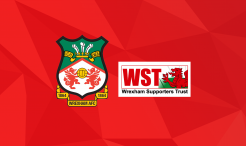 Wrexham Supporters Trust is disappointed to inform supporters that Wrexham AFC has been excluded from the Sports Winter Survival Package (SWSP) for National League clubs, owing to our location in Wales.
This news was revealed in a response to a question posed by club officials at a meeting with fellow National League Clubs today.
The result means that Wrexham AFC are the only club out of sixty-six fellow National League members to be excluded from further funding.
At a meeting last week, the National League presented member clubs with three options:
Loans to clubs from the SWSP
Loan to the National League from the SWSP, to be distributed to clubs as grants with reduced central funding in subsequent seasons
Pause the season until funding issues have been resolved
As previously communicated, the Wrexham Supporters Trust board decided on the second option outlined above at a meeting last week. Unfortunately, we have been advised by the National League that this is no longer an option for us.
In the invite to today's meeting the National League advised that member clubs will be issued with resolutions to consider the outcome of the current 2020/21 season now that funding options have been confirmed. We will not receive the full detail of the resolution until Monday, after which we will update supporters.
Following an emergency board meeting tonight, the position of Wrexham Supporters Trust is that we will abstain from voting on this resolution. It is not relevant to Wrexham AFC due to us being the only club excluded from funding. We have previously voted on every resolution that has been presented to us.
The Board of The Wrexham Supporters Trust