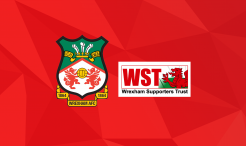 Please find this week's weekly update below. This week's update contains information about the forthcoming AGM and candidates for election to the WST Board. We have also collated the responses of the recent WST ownership survey.
Player of the Season 2019-20 voting is also now open – please find further details below.
You can find all of our previous updates here.
WST Board Elections 2020
With nominations closing last Saturday we have received eight candidates for nine positions on the Board. Therefore, there will not be an election this year. Instead we will have an "Affirmative Vote" to affirm the candidates as per rule 8.3 of our Election Policy
8.3 If there are as many or fewer candidates than there are places, an affirmative ballot shall be held at the AGM. Each successfully nominated candidate will be put before the meeting for the approval of members. Any candidate not receiving the support of more than half of those present in person and by proxy shall be deemed to have not been elected. The exception shall be that should the failure to elect any of the validly nominated candidates leave the Board below the minimum required under the Rules for them to act, all validly nominated candidates shall be deemed elected by the EMG and this declared at the AGM.
We will make a further announcement regarding those successfully nominated in due course.
Player of the Season 2019/20
Well it does seem like a lifetime ago but it's now time to vote for the player who impressed you most during the last season.
You are allowed one vote per member, all you need to do is add your membership number and email address for validation. You can only use this form once. Your first submission will be the only one recorded. You can place your vote here.
FSA Fans Survey
Our parent body, the Football Supporters Association, is currently conducting a survey on the return of football and they would love to hear from Wrexham fans. It will only take five minutes of your time.
"Dear Community Owned Club Network Member
The Football Supporters' Association has partnered with the Non-League Paper to produce a survey which gives fans an opportunity to have their say on the game's restart.
We are encouraging as many supporters, club officials and volunteers as possible to complete the survey to provide us with a quality data set with which to approach our consultations with the leagues and governing bodies. It has been designed to gather enough detailed data to allow analysis by club and league demographics and to establish a baseline of pre-Covid-19 activity against anticipated post-start activity. It will also highlight the main areas of concern about a return to grounds. The survey can be completed here."
Sale of Club Survey Results
Thank you to everybody who took part in our recent online survey. We have collated the responses and will now draw up a resolution that reflects members views.
The responses were pretty much what we would have expected and are a good starting point in a conversation around the future of the club.
Part 1
Our constitution states that we must maintain a majority holding in the club. Would you be in favour of selling a majority holding if the offer was acceptable? Any sale of the club would require a 75% majority vote.
Yes 113 72%
No 34 22%
Don't know 9 6%
Selected Comments
The club has struggled in recent years to compete. In most National League seasons, it's the heavily funded clubs who are able to push for promotion. I am concerned that with our current investment, we will see the club towards the lower end of the table for years to come, and that is why I am in favour of outside investment
I think we need to consider all credible offers for the club and the individuals making those offers. Personally I consider it unlikely that any individual or business would invest substantially with the WST retaining a majority shareholding.
Obviously provided appropriate due diligence took place and the owner was objectively deemed a positive person to take the club forward
WST must retain the majority holding, personally I would prefer this to be 100%.
The number of vocal fans, I believe to be in the minority, who look, and hope for an magic investor with a bottomless bank account, who will only have the interest of the fans at heart. It's a great shame, but a business can't operate in this way, unfortunately I can only see an alternative motive being the driving factor for anyone to come in waving a cheque book.
In the event of a sale would you be happy/prefer to see the fans retain a stake in the club?
Yes 131 84%
No 15 10%
Don't know 9 6%
Would you like to see the club valued in order to help set a price for the club?
Yes 112 72%
No 27 17%
Don't know 17 11%
Should the Trust always appoint professional advisors to negotiate on our behalf?
Yes 126 81%
No 9 6%
Don't know 21 13%
Should all of our reasonable costs be met by the purchaser ? These would include appointed advisors, due diligence, costs of the EGM process and any other related expenses.
Yes 100 64%
No 31 20%
Don't know 26 17%
Should costs be met on an ongoing basis as the sale progresses?
Yes 97 62%
No 23 15%
Don't know 37 24%
What aspects of the club would need to be guaranteed under a change of ownership? This could include the club's name, colours, badge, stadium and nickname. These are just suggestions so please take a moment and list the things that matter to you.
Selected Comments
"Home colour is red. Stadium has to be where it is. Badge is iconic, don't change. Name and stadium needs to be firstly in Welsh."
If we sell the club then I think we need to be prepared to lose control. Any owner should engage with the fans as they are the lifeblood of the club.
The club has changed numerous times in my 40 years plus of watching and no doubt this will continue no matter who owns us.
Things like nicknames / badge etc. are things that ultimately not that important.
Have a team managed professionally, who fans can connect with is far more important.
Part 2
Post-sale.
Following the sale of the club members will need to decide on whether to continue the WST or wind it up. Under our constitution our assets would be distributed to local charities if the WST should be wound up.
However the other option is to continue the Trust as a supportive body helping the new owners and working with them to move the club forward.
Once again, we also need to point out that we may not be able to control potential negotiations to deliver every outcome that we would want.
There are many different ways of doing this but most importantly we need to do all we can to protect the long term future of our club. Owners come and go but fans do not.
Should WST remain as a body to support the club and its new owners?
Yes 142 91%
No 11 7%
Don't know 3 2%
Selected Comments
WST are the fans and the fans are the WST. WST should represent the fans to / with any new owners.
Supportive body helping the new owners and working with them to move the club forward.
WST can remain supportive of new owners, but not in an official capacity.
Unsure. If the right owner came along, why would the WST need to exist?
It would have done a fantastic job of securing the future of the club and moving the responsibilities on to someone better suited professionally and financially to develop into a league club, leading volunteers to be able to enjoy football as fans once again.
Should WST retain the lease of the Racecourse and any future acquisitions such as the proposed Groves training centre?
Yes 92 59%
No 33 21%
Don't know 31 20%
Comments
We as fans have to retain some control of what we have worked for.
In an ideal scenario, should the members decide to sell the Club, would be for the sale to be concluded without including the lease of the Racecourse. The Trust could then assign the lease to the new Club owners and they pay rent to the Trust. At the same time, this discount would demonstrate support for the new ownership.
Whether a buyer would find such an agreement attractive is another matter.
Yes it should do, and it should be a prime MUST in any potential sale. The Cae Ras has so much history it must never be given to anyone else (Glyndwr owning it is bad enough).
WST would not be the owners and should sell the lease on ground etc. Any new owners need to buy the club and the things necessary to operate it.
In the event of a further sale by the new owners should the WST have some sort of veto on the new owners? For example if undesirable characters came forward?
Yes 119 76%
No 25 16%
Don't know 13 8%
Comments
Yes but I don't know how this could be achieved once we are a minority – if we sell a majority holding.
In principle, yes. Difficulty seeing new owners accepting this though.
It could be a stumbling block in putting such restrictions into the contract. I do not believe we should be so restrictive. We know the risk would exist.
Should the sale be in an way voted through, could there not be a stipulation / clause that there could be no on to other interested parties,
What would that look like?
Comments
I would like to think that the WST would be open to either investors or new buyers of the club. Whilst the WST has done an amazing job I feel we need major investment to take us to the next level and further.
Fit and proper person or people we have had enough of rogues previously.
I don't want to put off potential new owners with awkward clauses.
It is difficult to have influence over a subsequent sale in practical terms and so I would not want this to be overly restrictive but perhaps its contingent on any league fit and proper persons test being met, that individual not having had controlling stake in any of our rivals, the new buyer committing to same safeguards in terms of english pyramid, playing in wrexham, keeping name and colours, not having a criminal record, not primarily in business as a property developer.
In the event of a resale, the club should be sold back to the trust for the same price as the original sale and not to a third party without the consent of the membership.
Tricky situation. Owner has the right to sell their share to anyone they want. By at least voicing concerns and making them known, at least WST standing would be protected.