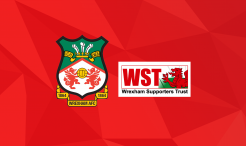 Following today's announcement that there has been bid to purchase the Football Club, and the subsequent calling of a Special General Meeting, please see our collection of FAQs below.
These are designed to give as much information as legally possible ahead of the SGM, which will take place on Tuesday September 22 at 7pm, via Zoom.
If you have any further enquriries, please direct them to secretary@wst.org.uk and will be collated for the board to answer.
Frequently asked questions
| | |
| --- | --- |
| Questions | Answers |
| Who are the people and why can't you tell us who it is? | Every Member of the Trust Board and Football Club Board is covered by a strict NDA (Non Disclosure Agreement), this means at this stage we are unable to reveal the names of the people and to do so could put the club at financial risk. This is normal business practice. We are coming to you as early as possible as owners of the business to give you as much information as legally we can at the earliest stage through this SGM. |
| Have the prospective investors set out what they want to achieve? | They have indicated to us that they want to take the club forward and build a successful team. They will have an opportunity to share their proposals with members at a future SGM should members give us permission to speak to them in more detail. |
| What is the timescale when we will know who it is? | The interested parties would be named before a final decision is required to be made by Trust Members and in advance of any second SGM. |
| Who will make the decision as to whether to sell Wrexham AFC? | Trust Members will make the decision. 75% of members voting will be required to vote for a transfer of ownership to happen. |
| Who can vote on any sale of the club? | Any paid up members as of 10:00am Monday 14th September 2020 will be able to vote in the election. |
| It is after 10:00am Monday 14th September 2020. If I join now will I be able to vote in the upcoming EGM? | No. It is normal for organisations to take the measure to close voting rights before such an important decision. This prevents groups joining to influence decisions so called "carpet bagging" or indeed people joining to prevent a course of action happening that would otherwise be good for the business. |
| By when will we need to make a decision? | At this stage we are asking for eligible members of the WST to enable us to have the detailed discussions with the investors. We don't want to presume how members would vote, however if members gave us the permission to have the discussions we would look to complete that work as quickly as possible to prevent uncertainty. Ideally we would complete this work in a couple of weeks maximum. |
| Did you seek out these people or did they come to you? | We were approached by representatives acting on behalf of the prospective new owners as they had an interest in Wrexham AFC. |
| Is this the only enquiry you have had? | We have had a number of enquiries about investment into the club over the course of our ownership. This is the first substantive proposal for investment to be put forward by another party. The members would make the decision on whether they want to transfer ownership to the prospective new owners. |
| What are the investors proposing? | A very very high level proposal from the investors is contained within the resolution. However this is not what people will vote on. If fans back the resolution and allow us to move towards a deal in principle with the prospective new owners we will bring back the detail for WST Members to make their decision at a second SGM. |
| Are you recommending that fans vote for this? | At this point we are not asking members to vote on a transfer of ownership but for members to allow us to speak to the interested investors and come back with something that can be voted on in another SGM. At this point the Trust Board are taking a neutral position to enable members to consider their preferred course of action without influence. |
| When will we know what the deal they are proposing is and what they are proposing to do? | This would happen after this SGM if we are given permission to have this level of discussion by members. |
| Does the WST keep going if we sell the club? | We would refer members to the resolution at the 2020 WST AGM whereby members voted to maintain the WST in the event of a transfer of ownership. |
| What is the purpose of this SGM? | To authorise the board of WST or sub-groups of the board (and advisers) to discuss the Offer with the Investors in order to negotiate a detailed heads of terms for a potential transaction with the intention that once a detailed heads of terms is negotiated the board of WST will call a further SGM for members to accept or reject the Offer. Acceptance of the offer would be by an extraordinary resolution. |
| Why are you proposing to get authorisation to negotiate with the prospective new owners? Why haven't you just done it and brought back a deal for us to vote on? | Due to the scale of investment proposed we are asking members allow us to actively pursue discussions notwithstanding that the offer that gets put to members may not be entirely consistent with a strict interpretation of WST's constitution or previous resolutions of Resolution F passed at the annual general meeting of members on Monday, 25th June 2018 and Resolution E passed at a special general meeting of members on Saturday, 1st August 2020. |