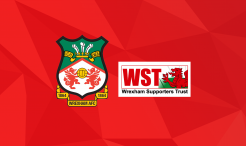 The Wrexham Supporters Trust are sad to announce that Spencer Harris has tendered his resignation as a Society Board Member.
Speaking about his resignation, Spencer said: "We are nearing completion of the change of ownership to Rob McElhenney and Ryan Reynolds. The last few months have been really difficult for me personally to balance all aspects of life.
"I wish everyone at Wrexham AFC and Wrexham Supporters Trust all the best for what I'm sure will be a really bright future. I'd like to thank all members for their support over the years and especially the last nine years that we have been running the club on your behalf."
The Society Board would like to place on record our thanks for Spencer's tireless efforts towards the Club and Trust over many years, especially during the months of negotiations in the ongoing takeover.
The resignation will take effect as of 31st January 2021. As part of the transition Spencer will step down from his Club and Trust duties with immediate effect, whilst at the same time handing over the elements he has been leading to other Society Board Members. Spencer will remain on the Society Board until this date in order to vote in favour of the deal but will handover all of his day to day responsibilities.
Wrexham Supporters Trust wishes to reassure supporters that his resignation shall have no impact on the completion of the sale of the Club, which is progressing as planned.
To replace Spencer on the Wrexham Supporters Trust Board, we are delighted that Club board director Phil Salmon has accepted a co-opted position for an interim period.
The Board of The Wrexham Supporters Trust