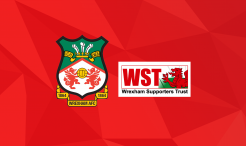 The Wrexham Supporters Trust is pleased to provide an update to fans on the status of rewards from the Unite to Save the Town (UTST) fundraising campaign.
Following discussions with representatives of the new owners, we can confirm they are happy to honour all rewards we are not able to fulfil this year owing to current circumstances.
Broken down, this covers the following: be in the squad photo, join the media team, premium hospitality for six, attend training, watch a game with Dixie McNeil, season ticket raffle, be a mascot, coffee & cake with the squad after training, club tour & photo on the pitch with Mickey Thomas and director for the day.
The signed player picture and brew Big Hand beer rewards shall be completed shortly.
The remaining rewards have been completed: signed letter from the manager, squad signed programme, match-worn shirt, rainbow shirt, your name in the programme and club shop voucher plus free gift.
This brings the UTST scheme to a close, with a final figure to be announced in due course. As agreed, 5% of the total sum shall be donated to Awyr Ias, with another 5% going to Nightingale House. The Wrexham Supporters Trust would like to once again thank everyone for their contributions.
If you have questions or queries regarding reward changes these should be directed to WST Vice-Chair Bryan Still- bryanstravel@outlook.com- who will be more than happy to discuss the matter with you.
WST Fundraiser Sub-Group