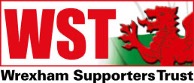 WREXHAM FOOTBALL SUPPORTERS' SOCIETY LTD – JOIN OR RENEWAL OF MEMBERSHIP

Dear Member,

The last 17 months have been different and, and for some, very challenging. We have had to adapt to new ways of living our lives, but, slowly, things are starting to get back to some sort of normality.

Closer to home, Wrexham AFC has new owners, and the original role and purpose of the WST has changed. The WST, with the help of the Football Supporters Association (FSA), has, for the past few months, been looking at its function, to re-focus and, be even more community orientated.

By being a member of WST, you can help it develop its new role and purpose in:

• being the democratic and representative voice of the supporters of the Club and strengthening the bonds between the Club and the communities which it serves;
• achieving the greatest possible supporter and community influence in the running and ownership of the Club;
• promoting responsible and constructive community engagement by present and future members of the communities served by the Club and encouraging the Club to do the same;
• operating democratically, fairly, sustainably, transparently and with financial responsibility and encouraging the Club to do the same;
• being a positive, inclusive and representative organisation, open and accessible to all supporters of the Club regardless of their age, income, ethnicity, gender, disability, sexuality or religious or moral belief.
• being part of the Board to proactively discuss and actively assist in developing its role in the Club Advisory Board

By joining the WST you'll have full-voting rights on important issues, attend our annual AGM and help to achieve these objects of the Trust.

There are several ways to renew or join the WST; standing order, paypal or by cheque.

Standing Order by Bank or Paypal

If you have a standing order currently in place you won't need to do anything. If you pay annually by standing order, we will have your details on record, so you do not need to do anything. Your membership will automatically renew.
If you have cancelled it and would like to renew you will need to set-up a standing order to:

Account Name: Wrexham Ftbl Sprts Scty ltd.
Account Number: 65084582
Sort-Code: 08-92-99
Bank: The Co-Operative.

To ensure that your payment is recognised to you, please add your WREXID as the reference. Please note that the minimum price for membership is £12 for adults and £5 for children (16 & under).

If you would like an acknowledgement of payment please e-mail membership@wst.org.uk and we will respond to you to confirm.

Payment via Cheque

Alternatively, you can pay by cheque; the cost for this payment method is £15 per year for Adults or £5 per year for Juniors (up to and including 16 years of age).
If you decide to pay by cheque you can use the WST's freepost address. Simply post your payment to FREEPOST WST (no stamp required).

Please ensure that you write your WREXID on the back of the cheque so that your payment is allocated to you.

Life Members

You do not have to do anything. Your membership will automatically renew.
Need to Update Your Contact Details?
If any of your personal details have changed recently, then please let the Club know (e.g. address, e-mail address etc). This will help to ensure that you receive club communications.
If you have not been receiving communication e-mails, then it is, either, we have your wrong e-mail address, or you have not opted in to receiving communications from us.
Due to recent changes in GDPR legislation, we need your explicit consent to receive these. If this applies to you, then e-mail membership@wst.org.uk asking to receive these. Please ensure you provide your WREXID.