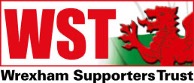 KOP BARRIERS – Update

The Trust wants to thank everyone that has requested an iconic barrier from the Kop. We have had a very high level of interest but hope to be able to fulfil all orders within the 10 mile radius of the Racecourse that where placed by last Friday (6th August). For those outside this area, we may need to discuss delivery with you.

We are pleased to announce that all the barriers have been removed from the Kop and work has now started to prepare them for delivery.

They will be made available in batches with priority given to those who have previously requested a barrier and recently reconfirmed their interest.

It is hoped that the first batch of barriers will be ready towards the end of August; slightly earlier than first anticipated.

When your barrier is ready, you will receive an email from the Trust's treasurer requesting payment, either by bank transfer or through Paypal. Full details, including terms and conditions will be contained in the e-mail.

Anyone still wishing to purchase a barrier can e-mail Matt Davies (matt.davies@wst.org.uk) copying in the treasurer (treasurer@wst.org.uk), but, please be aware, due to demand, you will be placed on a first-come-first-received reserve list.

Board of the Wrexham Supporters' Trust