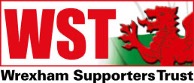 KOP BARRIERS
Following last week's announcement which paved the way to resume cutting barriers from the Kop, the WST wish to provide details of its plans and how to order a fantastic piece of history and heritage of Wrexham AFC.
Work is already underway cutting the barriers and the WST aim to cut as many (or hopefully all !!) barriers by around 6 August 2021 which is quite a big task. Once cut, the legs will be levelled and made safe. We are planning to release the sale in batches of 20 from early/mid-September once this work has been completed.
We already have a large order book and will be looking to deliver these first. For those who previously requested a barrier, can you please reconfirm your interest, by emailing the Trust at the addresses below. Once your barrier is ready, we will contact you to make all the arrangements.
For those still wishing to purchase a barrier, please let us know ASAP. We have limited stock and this will be your last chance to own one of these iconic pieces of history and heritage from the famous Kop. The arrangements are:
Please email Matt Davies (matt.davies@wst.org.uk) and the Treasurer (treasurer@wst.org.uk) along with your contact phone number and postal address. No payment is required at this point.
Your details will be put onto a register of interest.
When your barrier is ready, we will contact you regarding payment and delivery.
Delivery within a 10-mile radius of the Racecourse is FREE
For deliveries outside this area, a charge may apply which we will discuss with you.
All barriers cost £300 and come as seen. That is, they will be unpainted.
We would like to thank those who have previously ordered a barrier for your patience and   understanding.                       
The Board of the Wrexham Supporters Trust.