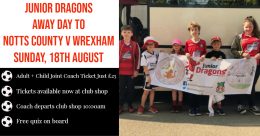 The Junior and Youth Dragons are running a special away trip to Notts County for our league game on Sunday,18th August, kick off 3pm.

A specially designated coach has been booked with space for 15 Junior/Youth Dragons and an accompanying adult.

Tickets for this coach are only being sold as a combined adult and Junior Dragon ticket, at the reduced price of £25. These tickets will be issued on a first come, first served basis and are only available on our designated coach.

Tickets can be booked either in person at the club shop or by phoning 01978 891 864. When booking, please ensure that you have your Junior Dragon membership card with you and to inform the club shop staff that you wish to travel on the Junior Dragon coach or you will be booked on the standard away travel coaches. Please note that tickets for our coach are NOT available to purchase online.

The Junior Dragons coach will be departing from the car park outside the club shop at 10am. This is to avoid any confusion with the standard away travel coaches which will be departing from outside the Turf as usual. Please also note that if you are travelling by car to the ground you will not be able to park in the car park outside the club shop as this will already be full.

Please remember that admission to the stadium is not included in the price of your coach ticket.

Junior Dragon volunteers will be stewarding the coach and will be available to escort you to and from the coach to the stadium. However, please remember that you are responsible for supervising your child for the duration of the trip, both on the coach and during the game. Inside the stadium you are free to choose to sit where you like in the away section. Following the game, the coach will return straight back to Wrexham.

Finally, please remember that alcohol is strictly prohibited on all trips run by the Away Travel Club. It is also an offence under law and punishable by a fine of up to £3,000. Club Members and Junior Dragons are protected by our away travel insurance policy. In the event that the match is postponed whilst travelling or abandoned you will receive free transport to the rearranged game or a refund on the price of your coach ticket if you cannot make the rearranged game.